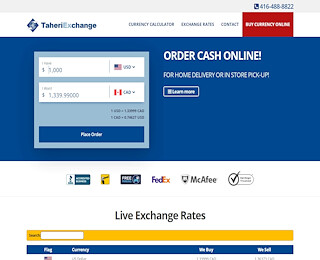 A currency exchange is a company that offers currency trading services to its clients. The company is also called a "Forex", which stands for Foreign Exchange. These companies specialize in exchanging one type of currency for another, usually at an official bank rate. The foreign exchange market is the global system where currencies are traded. This should not be confused with Forex trading is the buying and selling of currencies with the goal of making a profit from fluctuations in their values relative to each other.
Toronto is a diverse and multicultural city. This means that there are many different cultures and languages spoken in Toronto. It also means that the people of Toronto need to exchange their money for the currency of their country of origin when they go on vacation or to do business. Therefore, there are hundreds of money exchange companies, which means it might not seem easy to find the best currency exchange in Toronto. However, Taheri Exchange makes the situation easy for you. We have 25 years of experience in the market helping people from all over the world.
Whether you're a personal travel buyer or a corporate entity, you need to find the right company for your Foreign Exchange Rate needs. We have the expertise and technology to provide reliable and trustworthy fees.
What Should I Consider When Choosing a Foreign Currency Exchange Service?
Dealing with foreign currency can be a daunting task. You have to find the right trading broker, find the best exchange rates, and then get your money transferred. But don't worry, you don't have to do it alone. One of the best ways to find a reliable currency converter is to compare rates. You can search online for foreign exchange Toronto and collect contact details as well as rates.
You could then call the given numbers or visit these websites and click on the exchange rates to weigh your options. If you're looking for business services, be sure to check if the business you're considering offers services for corporate clients, wire transfers, foreign cash and bank notes, foreign currency bank drafts, etc. Why? Because these services are mandatory for any business dealing in international and global currency exchanges in Canada.
There are many foreign exchange services in Toronto and it can be hard to find the one that is best for you. Here are some things that will help you make a decision:
– What kind of customer service do they offer? Do they have representatives available 24 hours a day, 7 days a week?
– What kind of trading platform do they offer if any? Is it easy and intuitive to use?
– Is there a minimum deposit requirement?
– How many languages does their staff speaks?
Of course, Taheri Exchange stands out in all these services.
Toronto is not just Canada's largest city – it's also the financial capital of Canada. As such, there are many companies offer currency exchange services. The best currency exchange service in Toronto should be able to provide you with the best rates, fast and convenient services, and a range of currencies. And this is what defines Taheri Exchange. We offer the best rates in the market with top-notch customer service. Give us a call at 416-488-8822 for more information.